As the manufacturer of Headlight Illumination Systems since 1971, QED Medical can offer support services, repair, parts and replacement for the systems below and others. Please call for specifics.
QED MEDICAL SERVICE AND REPAIRS
If you have a piece of equipment we manufactured that is in need of service or repair, please contact QED Medical directly to discuss the issue and how it can best be resolved. PLEASE DO NOT SHIP ANY PRODUCT WITHOUT FIRST CONTACTING QED MEDICAL.
When sending product to QED Medical please follow these step:
Contact QED Medical via phone, email or fax (see contact page for information).
If it is determined your equipment should be sent to us for further evaluation, we will issue you an RMA number specific to your issue.
We will provide the correct address where to send the unit.
If your unit is not covered by warranty, you will be notified of any costs involved before any work is done.
Since 1971 we have manufactured equipment available under the brands of QED Medical, QED, High Q and BF Wehmer including those listed below. We can also assist you with any other equipment you may have under these Brand Names.
Nova 300-watt Xenon Light Source
Nova 180-watt Xenon Light Source
Nova 3, 200-watt Halogen Light Source
Beamer 10-watt LED Light Source
Altair HI 2
Altair SA
Lawson Light (Fiber Optic & Halogen)
C2 Portable Halogen
Centauri Portable Halogen
XL 10-watt Portable LED System
C3 Portable LED System
EOS Portable LED System
EOS-I Portable LED System
Ray Portable LED System
Twin Star Portable LED System
Need assistance with a system from one of the companies listed below? If so, give us a call. After 40+ years designing and manufacturing surgical headlight systems, we may just be able to help.
Also ask about:
Luxtec
Integra
Cuda
Sunoptics
Designs for Vision
Surgitel
Orascoptic
Welch Allyn
and others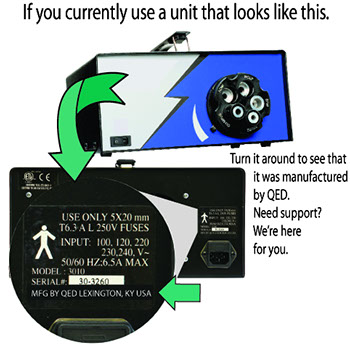 If you currently use a unit that looks like this -
that it was manufactured
by QED.
Need support?
We're here
for you.